SeaHealth Plus – 32 oz. bottle
$37.76 Advantage price
Advantage program benefits:
Save up to 10%
Change or cancel any time
Schedule delivery so you never run out
Learn More
Free shipping all U.S. orders
100% Satisfaction Guarantee
30-Day Money Back Guarantee
The Details
About
SeaHealth Plus is an all-natural, exclusive liquid polyphenol supplement. This blend consists of fruits, sea vegetables, (e.g. bladderwrack, green sea lettuce, Irish moss, ribbon kelp, wild blueberry, strawberry, raspberry) trace minerals and IASC certified Aloe Vera.
SeaHealth Plus is a 100% natural, cold processed supplement of exceptional quality with a great natural black cherry flavor. It has the antioxidant equivalent of consuming 5 servings of real fruits and vegetables, making it a simple inexpensive way to help meet your daily needs. We only use the purest form of polyphenols, giving you the most potent anti-oxidant and benefits.
Benefits
Benefits of SeaHealth Plus:
Concentrated, broad-spectrum blend of 10 antioxidant-rich fruits, 74 trace minerals from freshly harvested sea vegetables and IASC certified Aloe Vera to help regulate inflammation.Anti-oxidant equivalent of 5 servings of fruits and vegetables to help meet daily needs.
Anti-oxidant equivalent of 5 servings of fruits and vegetables to help meet daily needs.
Contains a proprietary blend of fruit extracts and concentrated powders selected for their anti-inflammatory properties.
Supplies 80mg of polyphenols.
Liquid format promotes greater bioavailability.
Naturally occurring electrolytes.
A great compliment when combined with liquid OmegaRx 2.
Suggested Use
Suggested Use: Adults should take 1 fluid ounce (2 tablespoons) or 1 capful daily prior to a meal or 15-30 minutes after a meal. 32 servings per bottle.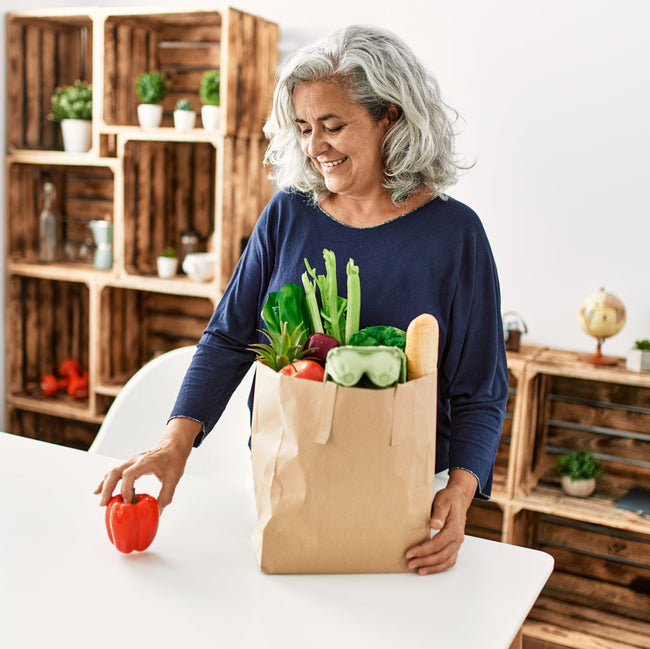 Science
Polyphenols Are: Polyphenols give fruits and vegetables their bright colors. Until recently, little was known about polyphenols. We now know they are powerful activators of genes. In particular, polyphenols can activate the genes necessary for the production of anti-oxidant, anti-inflammatory, and anti-aging enzymes. You Need Polyphenols Because:Polyphenols maintain a healthy gut by promoting an optimal microbial composition. Although polyphenols are not yet considered essential nutrients, you have to have adequate levels in the diet on a daily basis to continually activate the genes required for optimal health, especially for gut health. Polyphenols Help You Eat Less by:Polyphenols help support the enzymes that optimize metabolism so that you can promote higher energy levels. Supplementing with Polyphenols is Important Because:Polyphenol supplements can be concentrated to higher levels making it more likely for the body to get adequate levels on a daily basis to...
Read More
Purity Data
Purity Counts when choosing Polyphenols
We test every lot of finished product and have begun posting the report results because our consumers deserve to know what they're taking. To have Dr. Sears' name on every bottle, it has to meet his strict standards for concentration and purity and stability, plus be certified for sports usage. See how our SeaHealth Plus measures up.
Independent Third-Party Testing Reports
Real reviews, from real people.
See what our customers have to say about Zone products.
Total 5 star reviews: 22
Total 4 star reviews: 3
Total 3 star reviews: 6
Total 2 star reviews: 1
Total 1 star reviews: 0
78%
would recommend this product
Too Expensive

I have been a long term customer for roughly 15 years, ordering this product. I love the product! The company keeps raising the price on me. It is too expensive. I am planning on canceling my recurring order

Zone Living

10 seconds ago

William, Thank you for your comment and I will share your concerns with Dr. Sears directly. Thank You, Dr. Sears Zone

Are you kidding?

I've been buying this product from you for over 20 years. I think that should say enough!

SeaHealth Plus – 32 oz. bottle

I'm wondering what type of relief any of the long time users have gotten from the supplement I have a lot inflammation and experience a lot of all over body pain in random areas but especially back and legs. Has anyone with chronic pain found relief with this? I'm on my second bottle of OmegaRx2 but getting very little relief and not sure if I should add this. Most of the reviews are just about how long people have used it and how much they love it. Anyone please?

SeaHealth Plus – 32 oz. bottle

I have been taking this product as a supplement, along with the OmegaRx2, to my regular food regimen which already includes plenty of polyphenol rich foods. The only complaint i have is with the bottle cap; however i only use a shot glass to get a precise dosage, so i do not use the bottle cap to drink.

I exercise 4 to 6 hours per week and this product along with the OmegaRX2 help me with the recovery part by lessening the soreness in the next 24 hours following an intense session of physical activity. I highly recommend this product.

I do not recommend this product

SeaHealth Plus – 32 oz. bottle

I'm reviewing the reviewers, not the product. Saying how long you've used something isn't really saying very much and doesnt indicate whether you've seen actual health differences ... anyone care to provide more specific info ...? Thnx
Reviews Loaded
Reviews Added