Ingredients
2 cups 0%-Fat Greek Yogurt
1 tsp Dr. Sears' Zone Extra Virgin Olive Oil
5 scoops Zone Protein Powder - or flavored equivalent
1 tsp Pure Maple Extract - in nonalcoholic base or 1/2 teaspoon in alcohol
1 tsp Pure Vanilla Extract
1/2 tsp Cinnamon - or 1/4 teaspoon ground nutmeg
1/4 tsp Stevia - to taste
4 cups Strawberries - sliced fresh or thawed frozen
2 unsweetened peaches
1 1/2 cups Blueberries
1/2 tsp Apple Pie Spice
3/4 cup thawed overnight
1/2 cup Pecans - chopped lightly toasted
Instructions
Combine yogurt, protein powder, extracts, and spice.
Stir, taste and add 1/16 teaspoon stevia if protein powder is unsweetened and a sweeter taste is desired
Blend and taste. Adjust sweetness as/if needed.
Cover and chill for several hours or overnight if time permits.
Combine strawberries, peaches and cherries with pie spice.
Stir and divide among 4 serving bowls.
Top with maple yogurt mixture.
Garnish with blueberries and pecans.
Zone Products In This Recipe: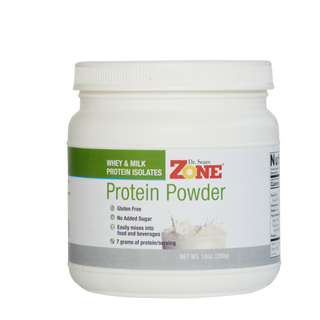 $24.95
$22.46 Advantage price
Quick Shop